To understate it a little, finding your clips size online has never been the easiest thing in the world. Maybe you've tried it before; there's a lot of sorting through pages-long PDFs, a lot of approximation, and a lot of guesswork—too much for us, anyway.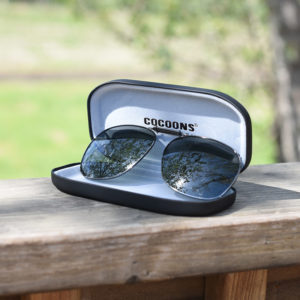 So, we set out to make finding your perfect Cocoons Clip-Ons simpler than ever. Just as we changed the game upwards of a decade ago with regards to online fitover shopping, we're changing the way people shop for clip-ons. With our new two-step process, you're that much closer to finding that new pair of clips you've wanted for your prescription glasses.
Don't believe us? We'll walk you through it. Step 1: you select the shape of your prescription frames from our four different choices. Step 2: you select the shape that most resembles your glasses from within that collection. We'll then tell you which frames, lens tints, and sizes we have available for that particular shape. It's as simple as that.
We also include links that'll give you information about each lens type: what kind of activities they're good for; what time of day they work best in; and what weather types and seasons people typically use them in. Our different Polaré lens systems do so much more than simply darken your vision, so it's important to find the lens that'll work best for what you do.
That's it. A quick and easy blog post for a quick and easy shop. So if you're in the market for a new pair of clips, head on over to our new Clip-Ons Size Finder to find the pair for you—it's never been easier.